Kyoto's rich and colorful history, combined with its geographic and climatic factors, has created a city with a very unique blend of tradition, culture, and industry.
Kyoto was laid out in a grid pattern with the Imperial Palace located at its center. The city was modeled on Chang-an (modern-day Xian), the capital of the Tang Dynasty of China. The surrounding areas are named according to their positions relative to the Imperial Palace: Rakuchu for central Kyoto, Kitayama for northern Kyoto, Higashiyama for eastern Kyoto, and Nishiyama for western Kyoto.
The Kamo River which flows from north-south through the middle of the city serves as a useful reference point. The areas alongside the river bank have been developed into parks, walking trails, and playing fields. Thus, the riverside is a favorite spot of both citizens and visitors to relax within the city.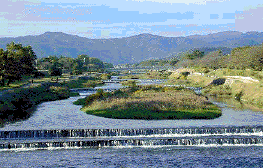 The Kamo River