Frequently Asked Questions (last updated October 17, 2011)

POSTER PRESENTATION INFORMATION
WHEN
July 3(Tue), 10:00~12:30/P001~P162 July 5(Thu), 10:00~12:30/P001~P135

WHERE
Lobby, 3F, ICC Jeju

INSTRUCTIONS
- The size for poster board is 120cm(W)x150c m(H) (ideal for A0 size poster).
- Please put your posters one day earlier than your poster presentation schedule.
- Presenters should remain at their posters during the poster presentation time.
- Please remove your posters at the end of the same day as your session.


CLIMATE
The climate of Korea is characterized by four distinct seasons: spring, summer, fall, and winter. The contrast between winter and summer is striking. Summer lasts from June to early September and is a hot and humid time of the year. The Island of Jeju, off the southern coast of Korea, enjoys warm marine climate which generally remains above 15°C the entire year. In July, the average temperature of the island is about 25.3°C. The rainy season, so-called 'changma' season, lasts for the months from late June until late July.


VISA
All visitors to the Republic of Korea must have a valid passport and visa. Visitors with roundtrip tickets from countries who have a special agreement with Korea may be exempt from the visa requirement, and can stay in Korea visa-free for up to 30 days or 90 days, depending on the terms of the agreement between two countries. If uncertain about the entry requirements into the country, please contact your nearest Korean embassy or a consulate as soon as possible. For more information: www.mofat.go.kr/english/visa/apply/index.jsp.

Special Entry Arrangements for Jeju Island - Arriving in and Departing from Jeju by Plane or Ship directly

Jeju offers a very flexible entry/departure policy, which allows visitors to stay without a visa for up to 30 days if they arrive in and depart from Jeju directly. That is, the visa-free access does not apply to visitors who arrive in Jeju or depart from Korea via other port/airport of Korea.

Visitors from 180 countries can enjoy the visa-free access arrangement to Jeju Island. However, visitors from the following 11 countries are required to obtain a visa prior to arrival: Afghanistan, Cuba, Ghana, Iran, Iraq, Kosovo, Nigeria, Macedonia, Palestine, Sudan, and Syria.


CURRENCY & EXCHANGE
The unit of currency in Korea is the Korean Won (KRW). Various notes and coins are used. Notes occur in 1,000, 5,000, 10,000 and 50,000 won denominations, while coins occur in 10, 50, 100, and 500 won denominations. As of October 2011, the exchange rate is KRW 1,158 to USD 1 and KRW 1,592 to EUR 1. Foreign bank notes and traveler's checks can be converted into the Korean won at foreign exchange banks and other authorized money exchange outlets. The exchange rate is subject to market fluctuations.


TIME DIFFERENCE
Standard Time in Korea is 9 hours ahead of Greenwich Mean Time (GMT+9).


TIPPING
Although appreciated, tipping is not a customary practice in Korea.


BANKING & ATM
There are plenty of places in Korea to change currencies, including banks, authorized currency exchanges and major hotels. ATM machines are ubiquitous, although not all offer services for foreign cards. Cards with the Plus and Cirrus logos are the easiest to use and most widely accepted in Korea. Banks are open from 9:00 a.m. to 4:00 p.m., Mondays to Fridays.


BUSINESS HOURS
Government office hours are usually from 9:00 to 18:00 on weekdays and are closed on weekends.
Most stores are open every day from 10:30 to 20:00, including Sundays.


TAX & VAT
Foreign tourists can receive nearly 10 percent VAT refunds for purchases at duty free shopping outlets. Goods must be taken out of Korea within three months of purchase to be eligible for a tax refund. A Value-Added Tax (VAT) is levied on most goods and services at a standard rate of 10% and is included in the retail price. At hotels, a 10% VAT is applied to rooms, meals and other services and is included in the bill.


ELECTRICITY
The standard electricity supply is 220-volts AC at 60Hz. Most hotels may provide outlet converters for 110 and 220 volts. It is advised that you check with the hotel beforehand.


LANGUAGE
Koreans speak Korean in their everyday lives, and knowing a few words of the language will come in very handy. Unfortunately, the language is drastically different from any Western language in grammar, and pronunciation is rather difficult for foreign visitors. Though the official language in Korea is standard Korean based on the Seoul dialect, various dialects are spoken in different parts of the country. Among them, the Jeju dialect spoken on Jeju Island is known for being almost incomprehensible to speakers of standard Korean.
Koreans take English lessons as part of their education. However, due to lack of practice, many Koreans have difficulty speaking English. If you need someone who speaks English, your best choice will be the high school or university students.


BBB (Before Babel Brigade) Volunteer Interpretation Service
Whenever and wherever you encounter communication problems with Koreans, just call 1588-5644 and press a number for your preferred language. Your call will be quickly connected to a BBB volunteer's mobile phone through an automated switchboard, and you will soon receive interpretation service.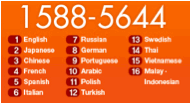 BBB volunteer services are available in 16 languages
For more information, please refer to BBB Korea official webpage (www.bbbkorea.org).


USEFUL PHONE NUMBERS
Police 112
Fire and Ambulance 119
Telephone Directory Service 00794 (English)
International Telephone Call Operator 00799 (English)
Tourist Information Center 1330 (English, Japanese, Mandarin Chinese)
Medical Referral Service 1339 (English, Japanese, Mandarin Chinese)