Social Events

Welcome Reception on Sunday, July 1, 7:00 p.m. – 10:00 p.m.
All participants and registered accompanying persons are cordially invited to an informal welcome reception. Located at an upper floor of the Westin Grand Munich, the roof terrace will be open, weather permitting. Butter pretzels and other snacks as well as beer and beverages will be served.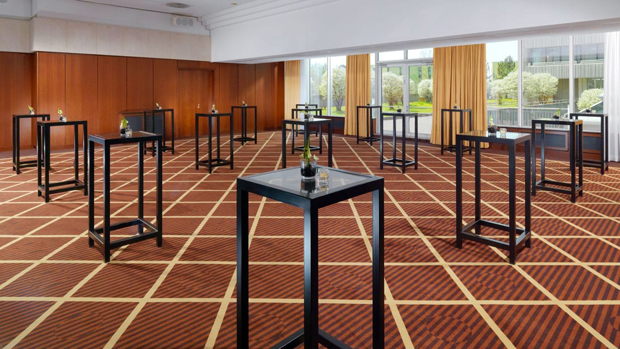 Conference Banquet on Wednesday, July 3, 7:00 p.m. – 11:00 p.m.
Located about 40 km southwest of Munich, at the eastern shore of Ammersee, the old monastery of Andechs on the Holy Mountain, offers a typical Bavarian atmosphere in a medieval setting. Already appreciated by pilgrims more than 500 years ago, the benedictine hospitality and the typical beer of the monastery are landmarks of Bavaria and Germany. Please have a look at
http://andechs.de/en/
for more detailed information.


| | | |
| --- | --- | --- |
| | | |
Foto: Kloster Andechs

The conference banquet will be held in the "Florianstadl" which offers 300 seats. Please be aware that a limited number – 300 – of banquet tickets will be available for purchase (100 €) as part of the online conference registration form.

No dress code, just relax in a beautiful renovated farm building, traditional bavarian outfit is certainly appreciated.

Busses to Andechs Monastery will leave at 6:00 p.m. from outside the Westin Grand Munich.



Excursions on Wednesday, July 3, afternoon

Excursions are free of charge and are part of the registration fee. Due to different demand and due to capacity limits of 150 participants for each of the excursions, we will start the signing in on Sunday during conference registration on a first come first serve basis until the capacity is reached. Excursions will start at 12:30 p.m. – busses will be waiting outside Westin Grand Munich.

At 6:00 pm, busses will transfer banquet participants who joined the Munich city tours and those who choose to do something different that afternoon from outside the Westin Grand to Andechs.

The excursion participants (Herrenchiemsee and Neuschwanstein) who attend the banquet will directly be transferred from the excursion sites to Kloster Andechs. Those who have other plans for Wednesday evening, i.e. who do not join us at the banquet, will have a bus transfer back to the Westin Grand Munich.

If couples have split during the day due to different preferences, they will be joined at the banquet - busses will take banquet participants from the excursion sites directly and the ones in Munich will have their bus ride as well to Kloster Andechs




Tour 1: Neuschwanstein Castle – limited to 150 participants

Neuschwanstein Castle is located about 90 km southwest of Munich. It is one of the most famous castles in the world and is visited every year by more than 1.3 million people. Build by Ludwig II, the "fairy taile king", Neuschwanstein Castle is a romanesque revival palace on a rugged hill above the village of Hohenschwangau.

Foto: pixabay



Tour 2: Herrenchiemsee Palace – limited to 150 participants

The palace of Herrenchiemsee is located on the largest island in the Chiemsee, a lake in southern Bavaria, southeast of Munich. Build close to a mediveal augustinian monastery, the palace was build starting from 1878 based on the model of Versailles, including the very famous Hall of Mirrors.


Foto: pixabay



Tour 3: Guided city tours Munich

Munich is the third-largest city in Germany with about 1.5 million inhabitants. As capital city of Bavaria and former residence of the Bavarian kings, Munich hosts a plethora of cultural events, museums, palaces, and life style. With the Alps close by and beautiful lakes such as Ammersee, Chiemsee, and Starnberger See nearby, Munich offers a multitude of opportunities for sport fans. The world-renowned "Oktorberfest" with many millions of visitors each year in early October gives an impression of the traditional bavarian hospitality which is shared by many beergardens in town. The guided city tours will give you a nice overview of this lively town.



Jogging club on weekdays, 7:00 a.m.

…with conference chair Dirk Guldi, each morning on weekdays at 7 a.m. in front of the Westin Grand – free of charge…



What to do in Munich, what you should not miss, what we would recommend

The Tourist information office of Munich has redesigned its web page – please find interesting links below.

https://www.muenchen.travel/en-gb/
https://www.muenchen.travel/en-gb/categories/book/guided-tours
https://www.muenchen.travel/en-gb/categories/book/tours-excursions



Here are also some links to fun events in Munich:

The Roof Climb and 'flying fox' zip-line across the stadium

https://www.olympiapark.de/en/tours-sightseeing/guided-tours/roof-climb/
The Olympic Tower
https://www.olympiapark.de/en/tours-sightseeing/guided-tours/roof-climb-and-flying-fox/
BMW Welt and BMW Museum : Visitor information : Opening times
https://www.bmw-welt.com/en.html

and, not to be missed in any case (in particular for beer lovers):
http://beerbikemunich.com